Welcome to flip-flop edition of Natural Gas Daily!
Our last three bullish BOIL trades ended with one in profit and two losses. It's not been a great start to winter gas trading for the bulls as any resemblance of bullish weather gets pulled just days later.

Source: HFIRweather.com
The latest outlook is the same as the Alaska ridge now disappears and a Southeast ridge develops. Note that On Monday when we published our natural gas article, you can see at the time the 15-day pattern was very bullish.
Image from Monday update:

Source: HFIRweather.com
The key to sustained bullish weather (colder than normal) is for Alaska and Greenland to be in a ridge pattern or yellow to red. This keeps the cold air in the high demand regions, which boosts heating demand and increases storage draws.
The latest development is just another long series of slaps to the bulls' face as the ridge in Alaska disappears and a Southeast ridge develops again.
In terms of heating degree days, this is going to be slightly bearish vs. the 30-year average, while higher than the 10-year average. The 10-15 day is still trending colder than normal, but the market is questioning just how long this bullish outlook will actually persist.
For us, we have decided to take the loss on our BOIL trade and wait it out. This is not an outlook we are particularly fond of, and considering that natural gas continues to be driven by weather model changes, it's not in our interest to stay in BOIL only to see it suffer from contract roll and volatility decay.
As for the fundamentalists, this outlook isn't bad. While you want a very cold winter to increase the odds of even higher natural gas prices for 2021, the latest outlook is not bad. Lower 48 production has also started to peak and roll over all the while LNG exports are now past ~11 Bcf/d.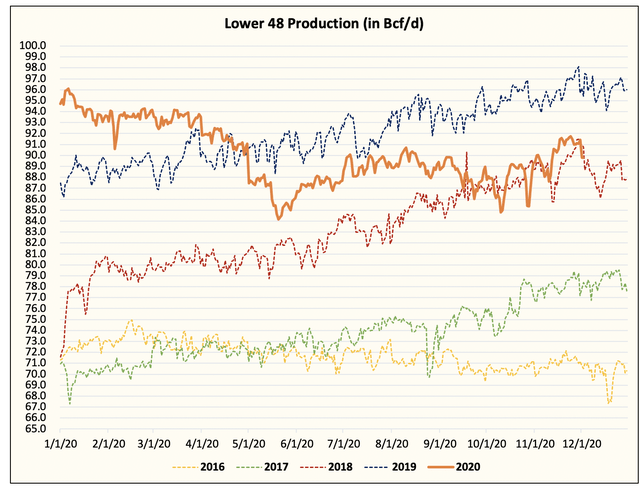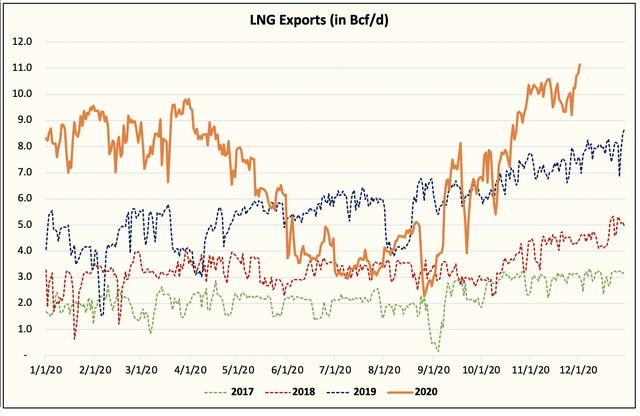 These two fundamental forces should help balances remain tight to a deficit. And considering the latest weather outlook is not overwhelmingly in favor for the bulls, we still estimate a deficit of ~2.83 Bcf/d.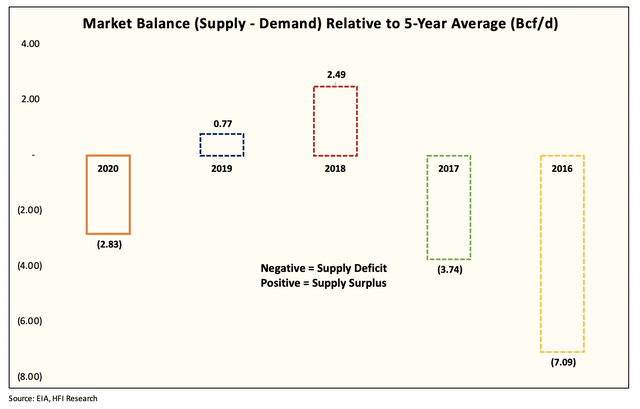 The difference in short-term vs medium-term
Taking a step back, it's important to be reminded of this over and over again. Winter gas trading (e.g. January to March contracts) is pretty much all about the weather. If the weather outlook is trending bearish, prices will go down. If the weather outlook is trending bullish, prices will go up. The fundamentals play a role in the severity of how much prices go up and down, but the key driver is weather model updates. So don't confuse the bullish deficit with why prices are falling today. Bearish weather model updates will do that to prices.
So if you are taking a longer-term approach to this, fundamental estimates matter more such as where Lower 48 production will be by next Spring. But for those of you trading natural gas, near-term weather updates matter more.
While the fundamentals are tight, the weather outlook just has not been in the bulls' favor.
We will be watching weather models closely, so if you are trading natural gas and need guidance on weather, fundamentals, and trader positioning, we think you should sign-up for HFI Research Natural Gas. We are currently offering a 2-week free trial, so come and see for yourself why we are the largest natural gas research service on Seeking Alpha. Sign-up here for a 2-week free trial!
Disclosure: I/we have no positions in any stocks mentioned, and no plans to initiate any positions within the next 72 hours. I wrote this article myself, and it expresses my own opinions. I am not receiving compensation for it (other than from Seeking Alpha). I have no business relationship with any company whose stock is mentioned in this article.